Rolling is an end-forming technique used to create closed-end tubes or adjust tube dimensions. Essentially, rolling is pressing a die against a revolving object. Read More…
Tube Rolling
Tubing rollers, also known as tube rollers, are a type of tube forming machinery used similarly to tube benders, thus creating an angle in the tube or pipe of up to 90º, or a right angle.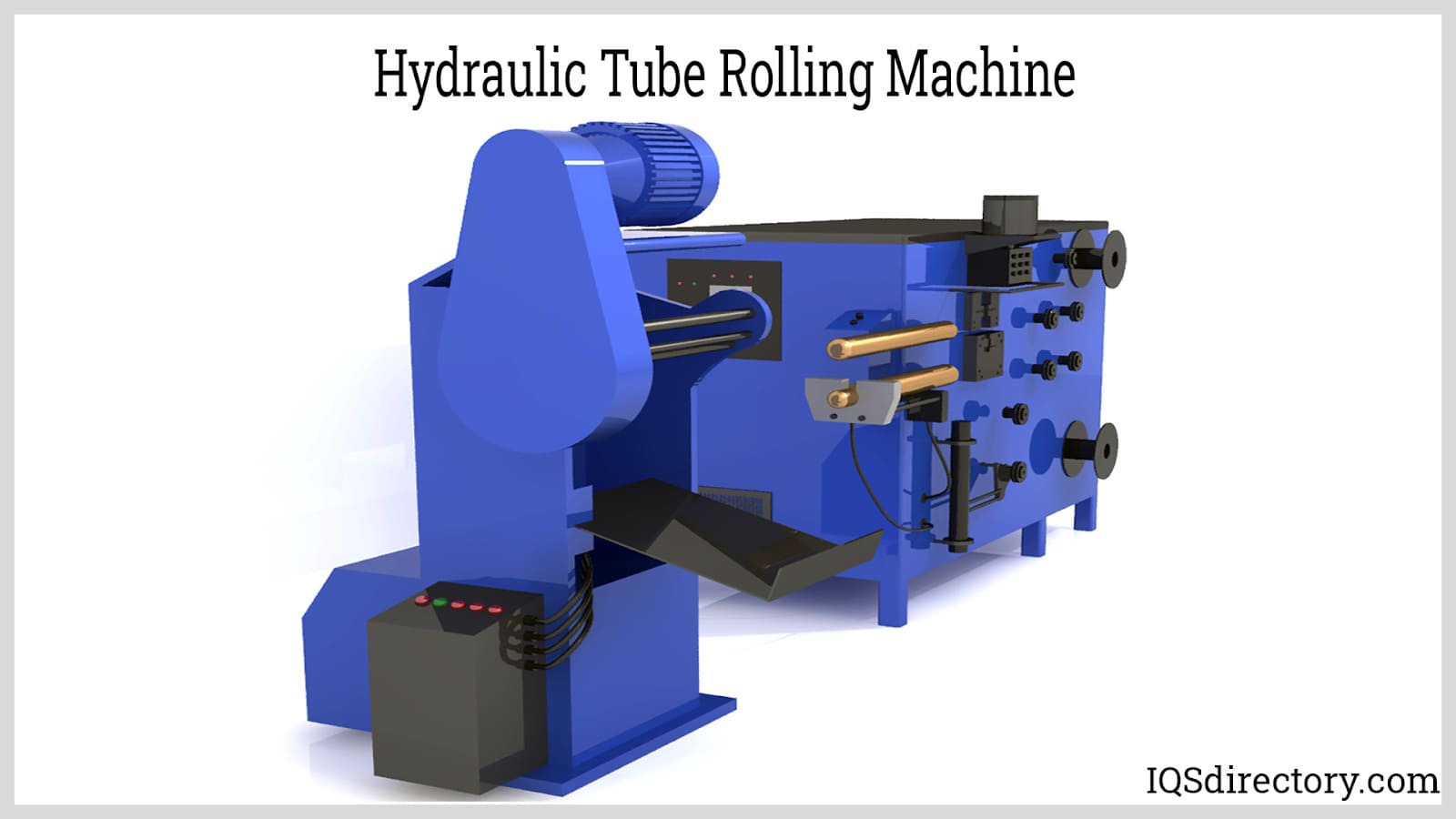 Tube rolling involves multiple small processes. The first process is piercing. Manufacturers take a round bar or a billet and pierce it to create a shell or a thick-walled pipe. Next, in a process called 'plug rolling', the pierced bar is lengthened to reduce its thickness until it resembles a tube. Piercing and plug rolling can both be completed in one heating cycle. On piercing mill machines, plug rolling is carried out by rotating a short mandrel between barrel or mushroom-shaped rolls.
Next, the pipe is sized using special mill equipment. For example, manufacturers may use continuous, short-mandrel, Pilger, or three-high thread-rolling mills. After sizing, the pipe is cooled, straightened, and examined. Finally, the pipe is cold-rolled and cold-drawn on specialized longitudinal intermittent-acting mills after being hot-rolled. These procedures are designed to reduce the diameter and wall thickness of the object, enhance its mechanical characteristics, and produce a smooth finish.
The process of rolling is done both hot and cold in rolling mills. A rolling mill is a complex machine with two or more supporting rollers, working rollers, a driving motor, roll stands, coupling gear, flywheel, and more. Rolling machines are available in various sizes and shapes. There is always a minimum of two rolls in a rolling mill. Rollers may have plain or grooved textures to shape the metal tubes gradually.
Types of Tube Rolling
Thread/Gear Rolling: The thread/gear rolling technique involves cold-forming rolling to cut gear or threads on a cylindrical blank. Threaded dies are attached to the machine's cylinder-shaped rollers. The cylindrical blank presses against the faces of the threaded rolls to produce a threaded surface. This method creates strong threads with excellent surface polish and no material loss. The thread/gear rolling process is used in the mass production of screws, bolts, and other fasteners.
Shape Rolling: In shape rolling, a metal workpiece is cut into various shapes using a form roller. There is no discernible change in thickness. It's effective for molding parts with irregular shapes, such as channels and trim. Manufacturers use shape rolling to create construction materials like I-beams, L-beams, U-channels, square bars, and rods.
Ring Rolling: Ring rolling is a hot rolling process that increases a ring's diameter. It uses a primary and idler roller, both positioned and rotated in the same direction. The roller's revolution causes the ring to rotate, which causes the rollers to start moving toward one another. As a result, the ring's thickness decreases while the diameter increases. The height of the ring is kept constant by a pair of edge rollers, which prevent metal flow in the direction of height. With this method, high accuracy and material finish are provided.
Tube Piercing: Tube piercing creates tensile tension in cylindrical rods with external compression. In this process, the tube is compressed and fed against a mandrel, leaving a hollow chamber behind by two rolls rotating counterclockwise. This technique creates seamless, thick-walled hollow tubes.
Advantages of Tube Rolling
Tube rolling is an adaptable process. Manufacturers can create tubular components with many materials, like aluminum, brass, or stainless steel. They can even incorporate round, rectangular, or conical cross-sections. Rolled tube components are found across many industries in aircraft, automotive, electronics, manufacturing, and leisure equipment.
Tube rolling is a reliable and precise process. Recent technological advances allow manufacturers to rapidly produce larger volumes. Tube rolling can be cost-effective for manufacturers. The mandrels used in tube rolling are inexpensive and decrease tooling costs.
Choosing the Right Tubing Roller Manufacturer
To make sure you have the most beneficial outcome when purchasing tubing rollers from a tubing roller manufacturer, it is important to compare at least 4 manufacturers using our tubing roller directory. Each tubing roller manufacturer has a business profile page that highlights their areas of experience and capabilities and a contact form to directly communicate with the manufacturer for more information or request a quote. Review each tubing roller business website using our patented website previewer to get an idea of what each business specializes in, and then use our simple RFQ form to contact multiple tubing roller businesses with the same quote.
Tubing Rolling Informational Video